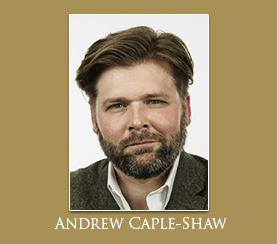 Andrew Caple-Shaw is a member of the American Society of Trial Consultants. He is a Magna Cum Laude graduate of Occidental College and former Rhodes Scholar Finalist. Andrew became a licensed attorney in the state of Tennessee after completing law school in less than two years, during which time he was a National Champion trial advocate, working actor, and elected leader of the television and film performers union, SAG-AFTRA. He is currently the Vice President of SAG-AFTRA Nashville and has held numerous national and local offices with the organization over the last two decades.
In 2012 he became the head of the mock trial program at the newly established Belmont College of Law in Nashville, where he applied his acting-based approach to trial skills teaching, which he developed around Sanford Meisner's principles of emotional listening. Under his leadership, Belmont's program rose to become one of the top ten in the nation according to American Association of Justice Rankings, all prior to the school even being accredited by the ABA. His first two graduating 3L classes went totally undefeated in their 7-state region in their respective years and lost at the national level only to the nation's top trial advocacy specialization school. As his advocacy teaching reputation grew, Andrew joined the ACT team and has been working with them for the past several years teaching and training law students, lawyers and their witnesses. Andrew has conducted sessions with law firms, trial colleges and associations of attorneys including: New Jersey Association for Justice, Mississippi Trial Lawyers and the Western Pennsylvania Trial Lawyers Association.
As a professional actor for over 28 years, Andrew started out as a regional and touring theater performer before later transitioning into film and television. He has appeared on television shows such as NCIS and THE WEST WING, worked with Academy Award winning actors and directors, and was admitted into the Academy of Television Arts and Sciences in his early 20s. Andrew is trained in a variety of classical and contemporary acting techniques ranging from Shakespeare to more advanced "method" approaches.