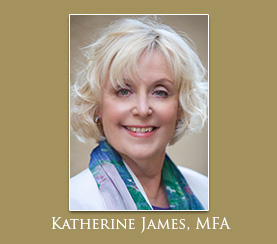 Trial Consultant:
A trial consultant who specializes in live communication skills based in the discipline of theatre, Katherine James has been working to make attorneys and witnesses better courtroom communicators since 1977. Over 30,000 attorneys have taken ACT of Communication™ workshops that she developed with co-founder Alan Blumenfeld. She has helped take over 1,500 cases to trial and helped prepare literally thousands of witnesses, including experts of every stripe. She coaches witnesses and their lawyers to reach, persuade and activate jurors. She has taught for AAJ (formerly ATLA) ABTL, ABA, NITA, DRI, CICA as well as many private law firms and bar associations.
Over 30,000 lawyers have taken her workshops. Over the past 15 years more have purchased her Online/DVD series "What Can Lawyers Learn From Actors"™. She has just released another Online CLE – "How To Make Your Witness A STAR" encapsulating her unique witness preparation system. She has also developed "GoodLawyer/BadLawyer™ Hats" for attorneys to use in witness preparation. She has been widely published and her articles can be read in the Knowledge Tank on the ACT of Communication™ website.
She and her co-founder and husband, Alan Blumenfeld, are proud members of The American Society of Trial Consultants. She is an active theatre artist who performs and directs regularly and is writing a new musical based on a plaintiff's case she worked on: "Headcase". She holds a BFA from Illinois Wesleyan University and an MFA from The American Conservatory Theater.
Her older son, Jordan Blumenfeld-James, is a plaintiff's lawyer with Simon, Greenstone, Panatier, Bartlett, P.C. Her younger son, Nathan Blumenfeld-James, is a professional rock and roll musician in the band Early Morning Rebel.
For a list of clients, testimonials and organizations with whom Katherine has worked please click here.
Actor, Playwright, Director:
Currently:
Free Association Theatre
Katherine James is the artistic director of a theatre company, Free Association Theatre. The Free Association Theatre was founded in 1977. This theatre company puts on original plays and adaptations.
Katherine is currently writing a new musical based on a lawsuit she worked on called Head Case, a dark musical about justice. She is almost through with the first draft of Teatro Boscobel – a political romance that echoes the comedies of Shakespeare as it explores the fine line of commerce and art.
Olympus, an exploration of the mythology of motherhood using Greek myth and music, enjoyed its first workshop production and is looking for the next. Play for Jimmy, a comedy Katherine is now in the process of workshopping as a writer, is semi-autobiographical and involves her coming of age in the theater when she was 17, the summer of 1969.
Theatricum Botanicum
Katherine played Nurse Guiness in Heartbreak House for the entire summer of 2012 to much critical acclaim. Katherine is on the reading committee for the Seedlings Group, which produces readings of new plays. As a part of Seedlings Group, Katherine gives first readings and staged readings of playwrights who come in from all over the country. Katherine's Free Association Theatre plays, Play for Jimmy and Olympus, both enjoyed their first readings as a part of this program and continue to flourish in the theater community. Her play The Old Salt got a staged reading as a part of a Seedlings Festival.
Katherine has directed several plays at Theatricum Botanicum, including Tira Palquist's Lost Nation, Henry Murray's Monkey Adored and Jonathan Goldberg's How to Shoot a Bullmoose.
Katherine has acted in several of these readings, including Tiffany Antone's Twigs and Bone and Hoyt Hilsman's Family Values. Involvement in this group has sharpened Katherine's awareness of her surroundings and talents as an actor.
Other Theaters
Katherine will be playing Dorothea in Eleemosynary by Lee Blessing at the Sierra Madre Playhouse at 8pm on Monday, July 25. This play house is where Katherine just completed a wonderful run as Amanda Wingfield in The Glass Menagerie, which was directed by the wonderful Christian Labano.
Katherine's play The Puppeteer Lets Go will enjoy a production at Moving Arts Theater, a company that specializes in theater in non-traditional settings. Katherine's play is a response to a painting in their Mosaic Media Arts Festival.
Katherine continues to be produced by the The@trics Company of Prescott, Arizona. Her plays Dirty Laundry and She Said, She Said have appeared in festivals.
LAFPI
Katherine is a proud member of Los Angeles Female Playwrights Initiative. The movement is dedicated to the concept "50/50 by 2020" – 50% of new plays produced, written by women by 2020. As a national organization, there are FPI's springing up all over America.


The Past:

Theatre: Regional Rep – Past

American Conservatory Theatre

The Taming of the Shrew
Richard III
The House of Bernardo Alba
BAM!
Fly Away Home
Billy

Cyrano de Bergerac
Shadow of a Gunman
The Duchess of Malfi
The Misalliance
Flowers of Memory


Pacific Conservatory of the Performing Arts

The House of Blue Leaves
The Tavern

A Street Car Named Desire
Damn Yankees


Oregon Shakespeare Festival

Long Day's Journey into Night
The Winter's Tale

Subject to Fits
Henry VI, Part One


Theatricum Botanicum

The Winter's Tale
Elizabeth I

Lysistrata 2003


Free Association Theatre

Beatrix Potter
Miranda

Talley's Folley
To Be Young, Gifted and Pregnant (San Francisco Premiere)


Norris Theatre

Urban Abo
Valentino!

Are The Stars Out Tonight
Individual Productions – Past:
Los Angeles Actor's Theater Theatre
To Be Young Gifted and Pregnant (Los Angeles Premiere)

Berkeley Stage Company

Memory for Saturday


Renaissance Repertory

A Midsummer Night's Dream


San Francisco Opera

Titus


Grove Shakespeare Festival

Mrs. California


Globe Playhouse

Twelfth Night


Bumbershoot Productions

Cache Cache


Theatre-Theater

Waiting for the Parade


Sankowich-Goldwyn Productions

One Flew Over the Cuckoo's Nest
Film:
The Right Stuff
Pearl
Twice Upon a Time
Innerscape
Easy Mark
Television:
Beverly Hills 90210 (Guest Star)
Empty Nest (Guest Star)
Picket (Guest Star)
Family Ties (Guest Star)
L.A. Law (Guest Star)
Moonlighting (Guest Star)
Sara (Guest Star)
Mr. Mom (Guest Star)
Mama's Boy (Guest Star)
Golden Moment (ABC MOW)
The Silent Ones (PBS, Guest)
The Uprising of the 20,000 (PBS, Lead)
Our Planet Tonight (Zucker Brothers' NBC Special, Guest Star)
To learn more about Katherine or her contributions to ACT of COMMUNICATION
®
, please
contact us
.