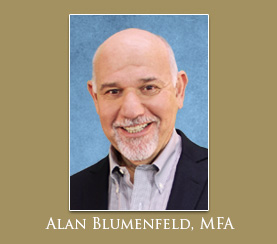 Trial Consultant:
Alan Blumenfeld graduated with a BA from Sarah Lawrence College and earned his MFA at the American Conservatory Theater where he trained as a classical repertory actor. It was there in 1973 that he, and his wife Katherine James, began their life long collaboration as theater artists, teachers and visionaries – applying theater techniques to other disciplines, most notably the law. Alan is a member of the American Society of Trial Consultants.
For almost 40 years, as co-founder of ACT of COMMUNICATION® Alan has been developing, and conducting workshops for lawyers and their clients all through the country and the world. As a highly sought after teacher and performer, Alan has taught more than 30,000 attorneys in Legal Education courses, colleges, self-sponsored workshops, law firms and as a part of faculty at law schools and legal seminars, including: NITA, ALI-ABA, The Defense Research Institute, Attorney's General Advocacy Institute, USC Law School, Harvard Law School, Georgetown Law School, American Association for Justice Ultimate College (Founding Faculty), and scores of others; as well as at firms such as O'Melveny & Myers, Munger Tolles & Olson, Fish & Richardson, Latham & Watkins and internationally in Edmonton, Canada and a series of workshops in Australia for The Shine Law Firm.
In 1977, Alan and Katherine also founded the Free Association Theater, a collection of theater artists creating, producing and performing original works and adaptations of classical literature.
Currently, they are producing Katherine's original plays in the Los Angeles area.
For almost 40 years, Alan has had an active career in film, television and theater, having guest starred on more than 300 television shows and appearing in more than 30 films. (link here to film/TV/theater resumes and videos). One of Alan and Katherine's favorite projects was performing in the film, CALLBACK, with original music and sound recording by their son, Nathan Blumenfeld James. Their older son, Jordan, has been named a Rising Star in the Super Lawyers of Los Angeles and California.
Alan is currrently working on a book for actors based on his 6 years of teaching at Pomona College, his experiences filling in and teaching at UCLA and USC, and his 37 years of professional experience. The book will be focused on acting for the contemporary stage, for classical theater and for film and television.

If you would like to view Katherine's entire acting resume, please click here.
Actor, Director, Producer:
To view the many film, TV, theatre or directing roles
Alan Blumenfeld has played a part in, please select the appropriate link below.
Television – Series, Pilots & MOWs
Television / Episodic – Guest Star
Stone Manners Salners – Alan's Representation
AKA Talent Agency – Alan's Representation
Confession
Righteous Kill
Pathology
Saints No Angels
Pandemic
The Optimist
In Her Shoes
Dickie Roberts – Former Child
Star
The Ring
Heartbreakers
Flinstones: Viva Rock Vegas
Sarah – Portrait of a Film School
Graduate
Dinner & Driving
Jingle All the Way
The Flinstones
Tin Men
The TV Set
Problem Child II
Innerspace
Wargames
Friday the 13TH, Part VI
Twice Upon a Time
Dark Side of the Moon
Blackbelt
Toddlers
Nightlife
Outcold
Instant Karma
Peter and the Wolf
Dillinger & Capone
K-9
Worth Winning
Hot Guys with Guns
The Interview
Pinksy
A Midsummer Night's Dream
Oliver's Ghost
The Sitter
Jane Doe 8
Aces
2gether
Jackie's Back
Breast Men
The Barefoot Executive
Lightning; 87TH Precinct
Just in Time
Henry Winkler Pilot
Perry Mason
Lethal White Female
Good Enough to Win
Spare Change
Gone are the Days
Tangled Web
Payoff
I'll Take Romance
Preppy Murder
Shakedown on the Sunset Strip
Frank Nitto, Enforcer
Badge of the Assassin
Adversaries
Hallmark/MOW
Hallmark/MOW
Hallmark/MOW
WB Pilot
MTV /FILM
LIFETIME
HBO/MOW
ABC/Disney/MOW
NBC/Hearst Ent./MOW
SERIES REGULAR
DISNEY/NBC
Viacom/MOW
MOW
MOW
Pilot
MOW
MOW
MOW
MOW
MOW
MOW
MOW
MOW
Hulu Pilot
Recurring
Murder in the First
Heroes (Seasons 2 & 3)
Gilmore Girls
Philly
Becker
Golden Girls
Life Goes On
Family Ties
Hill Street Blues
Cheers
Brooklyn Bridge
Equal Justice
One Hour
Bosch (Season 2)
Mentalist
Numbers
Cold Case
C.S.I. (2 Episodes)
The Young and the Restless
Mad Men
12 Miles of Bad Road
Grey's Anatomy
Smith (2 Episodes)
Women in Law
The Division
Without a Trace
Judging Amy
Women in Law
ER
NYPD Blue
The Practice
Stargate: Atlantis
Arrested Development (Netflix)
Parenthood
Castle
Shameless
Half Hour
Fresh Off the Boat
Unt. Chris Kattan Pilot
Sabrina, the Teenage Witch
It's Gary Shandling's Show
Empty Nest
Dream On
Murphy Brown
Single Guy
Women in Law
Saved by the Bell
Roseanne
Dave's World
Hanging with Mr. Cooper
Zeke and Luther

South Coast Repertory – Costa Mesa, CA

An Italian Straw Hat
A Feminine Ending
Born Yesterday

Felix/Beuberpuis
David
Eddie Brock


Berkshire Theatre – Stockbridge, MA

Awake & Sing

Uncle Morty


Richard Rogers Theatre – New York, N.Y (Broadway & First National Tour)

Laughter on the 23rd Floor

IRA


A Noise Within – Pasadena, CA
Man of Lamancha
Loot
Ubu Roi
Much Ado About Nothing
School for Wives
A Midsummer Night's Dream
Etienne
Taming of the Shrew
Awake and Sing
The Illusion
A Christmas Carol
The Beaux' Stratagem
Figaro
Romeo and Juliet

Sancho Panza
McCleavy
Pere Ubu
Dogberry
Chrysalde
Bottom (Hollywood Bowl and Glendale)
A Flea in Her Ear
Gremio
Uncle Morty
Matamore
Ghost of Christmas Present &
Benevolent Gentleman
Scrub
Dr. Bartholo
Capulet


Odyssey Theatre – Los Angeles, CA

Creatures
Mario
Rhinocerus
Mr. Peachum

Fatfish
We are Family
Jean (Garland & Dramalogue Award) Mr. Peachum
Three Penny Opera


Norris Theatre – Palos Verdes, CA

Abe Dreyfus
Nat

Squabbles
I'm Not Rappaport


Theatricum Botanicum – Los Angeles, CA

Twelfth Night
Dracula
Omnium Gatherum
Seagull
Madwoman of Chaillot
Skin of Our Teeth
King Lear
Lysistrata
A Midsummer Night's Dream
As You Like It
Winter's Tale
Tempest
Tempest
Pericles

Two Gentlemen of Verona
Taming of the Shrew
Romeo and Juliet
Lettice and Lovage
Cleon
Talley's Folly
Merry Wives of Windsor (Critics Circle/Dramalogue Awards)
Merchant of Venice
Julius Caesar
The Miser
Hamlet
Merry Wives (2011)
Tartuffe
Heartbreak House
Cherry Docs
The Royal Family
Tone Clusters
Lear
All's Well That Ends Well
Equivocation
Augus: Osage County
Romeo and Juliet
Malvolio
Van Helsing
Rover
Shmarev
The President
Mr. Antrobus
Kent
The President
Bottom
Feste
Touchstone
Autolycus
Trinculo
Stephano
Cleon
Launce
Grumio
Friar Laurence
Mr. Bardolphe
Percicles
Matt Friedman
Falstaff
Shylock
Casca
Harpagon
Grave Digger
Falstaff
Cleante
Mangan
Danny
Oscar Wolfe
Frank Gulick
Gloucester
Lavatch
Nate/Cecil
Uncle Charlie Aiken
Capulet


Fountain Theatre – Los Angeles, CA

Cornnelius McCorkle

A House Not Meant to Stand


Ojai Shakespeare Festival – Ojai, CA

Henry IV, Part I

Falstaff


The Globe – Los Angeles, CA

Twelfth Night

Sir Toby


The Little Night Fox Theatre – San Francisco, CA

Bleacher Bums
One Flew Over the Cuckoo's Nest

Decker
Cheswick
Cannery Theatre – San Francisco, CA
The Taming of the Shrew
Pedant


Pacific Conservatory of the Performing Arts – Santa Maria, CA

Inherit the Wind
That Championship Season
Damn Yankees
Streetcar Named Desire
Westside Story

Matthew Brady
Phil Romano
Coach
Steve Hubbell
Glad Hand


Oregon Shakespearean Festival – Ashland, OR

Romeo and Juliet
Henry VI, Part I
All's Well that Ends Well

Old Capulet
Mayor of London
Florentine Lord


The American Conservatory Theatre – San Francisco, CA

The Misalliance
The Pillars of the Community
Taming of the Shrew
Richard III
Cyrano De Bergerac

John Trarleton
Mayor
Ensemble
Ensemble
Ensemble


San Francisco Opera – San Francisco, CA

Carmen
La Clemenza da Tito

Lilias Pasta

Santa Monica Playhouse – Santa Monica, CA

Merchant of Venice


Theatricum Botanicum – Topanga, CA

Charley's Aunt


Free Association Theatre – San Francisco and Los Angeles, CA

Miranda
A three person play based on the work of Katherine Anne Porter.

Beatrix Potter: The Sharing of Peter Rabbit
A one woman show based on the life of Beatrix Potter.

To Be Young, Gifted and Pregnant
An actress in labor explores motherhood from the great literary mothers of 20th Century America from Tillie Olsen to Anne Sexton.

Sholem Aleichem: Laughter and Tears
A one man show of the work and life of the great Jewish writer.

Los Angeles Theater Center – Los Angeles, CA

Kazrilivka!
An adaptation of Sholem Aleichem short stories.

Goldena Medina
The early twentieth century immigrant experience—adaptations of American Yiddish writers.

Der Finer Yid
In the 1930s the division between the wealthy and the worker becomes profound.

We Survive
World War II—resistance at home, resistance in Europe.

Red Nisht
The Blacklist—stories of children of the blacklist.

1492
The Spanish Inquisition woven through a tale of a young girl in New Mexico who discovers that she is one of the hidden Jews of the Americas.

Ringlets in the Net
The life and work of IL Peretz.

Wandering Star
An adaptation of the Sholem Aleichem novel of a wandering theatrical troupe.

Bread and Roses
The labor movement in the United States—from the Triangle Shirtwaist Fire through today woven through the eyes of a modern Jewish family.


Stone Manners Salners – Alan's Representation
9911 W. Pico Blvd., Suite 1400, Los Angeles, CA 90035 • Phone (323) 655-1313 • Fax (323) 655-7676
900 Broadway, Suite 910, New York, NY 10003 • Phone (212) 505-1400 • Fax (212) 505-1448


AKA Talent Agency – Alan's Representation
6310 San Vicente Blvd., Suite 200, Los Angeles, CA 90043 • Phone (323) 965-5600 • Fax (323) 965-5601


Commercial Talent Agency – Alan's Representation
12711 Ventura Blvd., Suite 285 Studio City, CA 91604 • Phone (323) 591-0404 • Fax (818) 579-4753